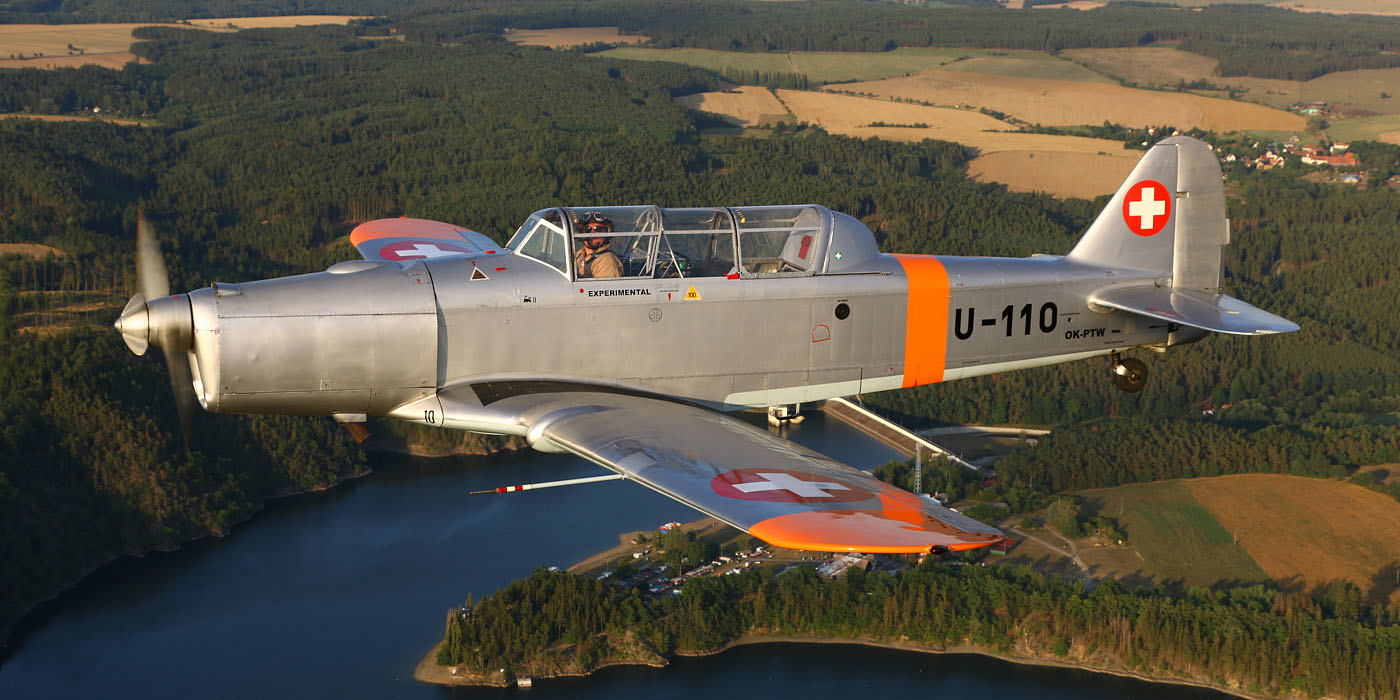 The Second World War in Europe was winding rapidly down, when the Swiss aviation concern, Pilatus Flugzeugwerke AG, rolled out a prototype of their new trainer – the first flight coming on 27th April 1945, not long before VE Day. Designed to be produced as quickly and economically as possible, the Swiss company used as many components from their German aircraft stocks as possible. The tailwheel, some canopy components and the main undercarriage and fairings were from the Bf109s the Swiss had bought from Messerschmitt. The engine was an air-cooled inverted V-12 Argus AS410-A2 of some 485hp, as used in such Luftwaffe aircraft as the Focke-Wulf Fw189 and the Arado Ar96 trainer. This gave a maximum speed of 211 mph, a range of 530 miles and a respectable initial climb rate of 1,280 ft/min. One interesting feature is the finned spinner; this rotated and provided power to the actuator of the variable-pitch propeller, a Hoffman Argus L22.

Fifty two of these handsome aircraft were taken on charge by the Swiss Air Force, half as dual control trainers, the P-2-05, and half as weapons trainers (armed with a synchronized machinegun in the nose, light bombs and rockets), the P-2-06. The P2 had a long and useful life, finally being retired in 1981. After disposal onto the civilian market, they proved to be extremely popular with the 'warbird' fraternity, and have appear (painted as Luftwaffe aircraft) in a number of feature films like 'Indiana Jones and the Last Crusade'.

Our Pilatus P2-05 - serial 600-30 - was build in 1946 and is registered as G-PTWO nowadays. Like the Stearman and Harvard, the P2 is based in Pilsen (Czech) and available for air displays and Film/Photo work.
Specifications
Engine: Argus AS-410A-2
Wing Span: 11,0 m
Length: 9,07 m
Maximum Speed: 600 km/h
Ceiling: 6600 m
Range: 865 km